PatternQuery:Service Organization
From WebChem Wiki
PatternQuery service is aimed for querying large datasets of structures from the Protein Data Bank. To perfect your query or query smaller datasets or even user-uploaded data, please use PatternQuery Explorer instead.
If you would like to run PatternQuery at your home institution, please download a command-line version. The following visual will guide you through the process of submitting your calculation so as the interpreting results.
Synopsis Page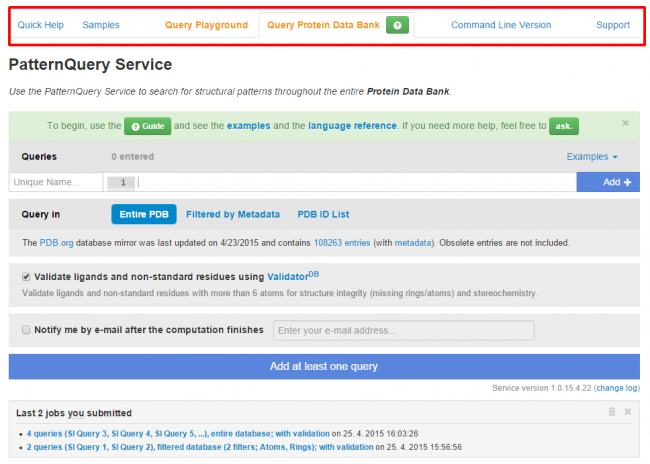 The PatternQuery synopsis page is divided into a number of tabs:
Quick Help and Samples tab provide information to help you orient yourself.
Support provides a simple user interface for asking questions related to a PatternQuery language or service. We do our best to come back to your questions as soon as possible. Query Playground represents an interface for the PatternQuery Explorer application where you can tune up your queries before doing the database-wide searches.
Query Protein Data Bank is a simple interface for creating a database wide PatternQuery calculation.
Command Line Version enables you to download a PatternQuery service and run it at your home institution over your in-house database in a supported format (*.pdb, *.cif, *.pqr, *.mol and *.sdf).
Job Submission
The UI of the PatternQuery Service job submission page allows user to submit a new query calculation. First time user can take a look at some of the example queries. If you have run any calculations with PatternQuery already, you can browse the results.
At first, you can encode a pattern of you choice into a query. If you are unsure on how to compose a query, try one of the provided examples. You can also take a look into our case studies or consult the language reference. In case none of these help, ask us a question via Support tab. We will be happy to answer you in the shortest possible time. Do not forget to click Add+ after you finish composing query. Multiple queries can be specified at time.
Decide whether you would like to query the entire Protein Data Bank, a subset thereof based on a variety of different properties, or a user provided list of PDB entries of interest.
You can query Protein Data Bank based on numerous metadata. At first select a property you would like to filter by, then select a comparison method and finally fill in the demanded value. Please carefully read the hints and examples below each selected property. Different properties can have different means of providing input values. Note that you can also include logical expressions. For example: !S & N in Atom property means that just structures containing a nitrogen atom and none sulfur atoms will be considered. Multiple filters can be applied at the same time.
As soon as you specify a query or queries and the data set, you can tick an option to validate all the ligands and non-standard residues for their structure integrity using ValidatorDB and, finally, submit the calculation. Based on the number of processed structures, the execution time, in most cases, can be in the range of minutes (thousands of structures) to an hour (whole Protein Data Bank). Bookmark the newly generated web address as the results will be available here once the calculation finishes. Optionally you can provide an e-mail address and we will contact you directly once your calculation is done.
Please continue reading to the Specifics page, where you can find additional info on downloading and inspecting your results.